Deadline
August
Overview
The Marshall Scholarships fund one or two to three years of graduate study at any university in the United Kingdom.
Founded by a 1953 Act of Parliament, and named in honour of US Secretary of State George C Marshall, the Scholarships commemorate the humane ideals of the Marshall Plan and they express the continuing gratitude of the British people to their American counterparts.
The Marshall Scholarship is among the most prestigious and, therefore, competitive fellowships in the world. The average selection rate is between 3% and 4%.
As future leaders with a lasting understanding of British society, Marshall Scholars strengthen the enduring relationship between the British and American peoples, their governments and their institutions. Marshall Scholars are talented, independent and wide-ranging, and their time as Scholars enhances their intellectual and personal growth. Their direct engagement with Britain through its best academic programmes contributes to their ultimate personal success.
Benefits
The scholarship includes tuition, fees, travel expenses, and a stipend.  The Marshall Aid Commemoration Commission also organizes regular outings and events for Marshall Scholars.
Eligibility criteria
be citizens of the United States of America (at the time they apply for a scholarship);
(by the time they take up their scholarship)
hold their first undergraduate degree from an accredited four-year college or university in the United States;
have obtained a grade point average of not less than 3.7 on their undergraduate degree
have graduated from their first undergraduate college or university within the past two years
not have studied for, or hold a degree or degree-equivalent qualification from a British University.
Award requirements
Marshall Scholars must remain in residence for the duration of their award period.
Application process
A detailed description of the nomination process for the Marshall Scholarship is available on our 'Apply Now' page.
Upcoming events
Throughout the year, ONSA hosts information sessions on specific fellowship topics. Visit the Info Sessions page for a current calendar. Past events can frequently be viewed on our YouTube page.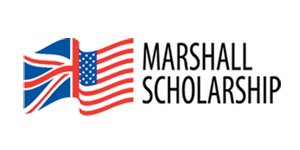 Purpose
Funding for Graduate Study
International Study or Experience
Focus
Business and Entrepreneurship
Creative and Performing Arts
Environment and Sustainability
Health and Medicine
Humanities
International Affairs
Journalism and Media
National Security
Peace and Conflict Resolution
Public Policy
Public Service
Social Justice
Social Science
STEM
Eligible applicants
Fourth-year+ Undergrads
Undergraduate Alumni