Fulbright US Student Program
---
Deadline
September
Overview
The Fulbright U.S. Student Program sponsors year-long experiences abroad including teaching, research, and study. 
During their grants, Fulbrighters will meet, work, live with and learn from the people of the host country, sharing daily experiences.  The program facilitates cultural exchange through direct interaction on an individual basis in the classroom, field, home, and in routine tasks, allowing the grantee to gain an appreciation of others' viewpoints and beliefs, the way they do things, and the way they think. Through engagement in the community, the individual will interact with their hosts on a one-to-one basis in an atmosphere of openness, academic integrity, and intellectual freedom, thereby promoting mutual understanding.
Benefits
Grants cover tuition, fees, health insurance, travel, and include a monthly stipend. 
Eligibility criteria
Candidates must have completed a bachelor's degree by the start of the grant period; therefore, applications for Fulbright grants may only be submitted by graduating seniors, recent graduates, or current graduate students. Applicants in all fields are welcome. Only US citizens are eligible to apply.
Selection criteria
Selection is made on the basis of:
Quality and feasibility of the proposal 
Academic or professional record (with regard to the proposal)
Personal qualifications (i.e. ambassadorial potential)
Language preparation
Extent to which the candidate and the project will help to advance the Fulbright aim of promoting mutual understanding among nations through engagement in the host community, among other activities
Requirements of the program in individual countries. In some countries, advanced-degree candidates are preferred, and in some countries, certain fields of study are not recommended. Applicants should review the individual country summaries before beginning an application
Application process
The ASU deadline to apply for the Fulbright US Student Program is typically in mid-September.  Currently enrolled students are expected to apply through the campus process. The application is submitted entirely online. 
Before beginning the application process for the Fulbright US Student program, interested students are expected to have thoroughly reviewed the Fulbright US Student program website. Prospective applicants should also carefully read the Country Summaries for their host countries of interest. 
All campus applicants will participate in screening interviews with the Fulbright Campus Committee.  Interviews typically occur during the last week of September.  Students may continue revising their applications up to the final submission deadline set by the Fulbright Program Adviser (typically a few days before the national submission deadline).
For detailed guidance on the Fulbright application process, visit fulbright.asu.edu.
Related stories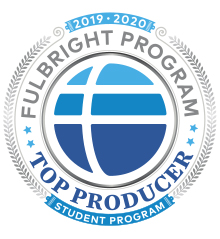 Purpose
Foreign Language Study
Funding for Graduate Study
Gap Year
International Study or Experience
Leadership Development
Research Support
Teaching Experience
Focus
Business and Entrepreneurship
Creative and Performing Arts
Environment and Sustainability
Health and Medicine
Humanities
International Affairs
Journalism and Media
National Security
Peace and Conflict Resolution
Public Policy
Public Service
Social Justice
Social Science
STEM
Eligible applicants
Fourth-year+ Undergrads
Graduate Students
Undergraduate Alumni
Graduate Alumni