Deadline
March
Overview
An increasingly globalized world needs young leaders who can bridge divides and help solve our biggest challenges together.
The Voyager Scholarship was created by the Obamas and Brian Chesky, Airbnb CEO, to help shape such leaders. Even though they come from different backgrounds, both the President and Brian believe that exposure to new places and experiences generates understanding, empathy, and cooperation which equips the next generation to create meaningful change.
This scholarship gives college students financial aid to alleviate the burden of college debt, meaningful travel experiences to expand their horizons, and a network of mentors and leaders to support them.
Benefits
Up to $50,000 in financial aid.
$10,000 stipend and free Airbnb housing to pursue a summer work-travel experience between their junior and senior year of college.
After graduation, Airbnb will provide the students with a $2,000 travel credit every year for 10 years, totaling $20,000.
Students will be invited each fall to an annual summit to help define and inspire their public service journey.
Throughout the program, students will be invited to an ongoing speaker series, giving them access to a network of leaders. After graduation, they will join the Obama Foundation's global community, providing them with Foundation resources and programming.
Eligibility criteria
Applicants must meet all of the following eligibility criteria:
Plan to enroll full-time in their junior year of study at an accredited four-year college or university in the United States in Fall 2022. Eligible students are:

Finishing sophomore year in Spring 2022
Or transferring from a two-year to a four-year college for their 2022-2023 junior academic year

Have a minimum grade point average of 3.0 on a 4.0 scale, or equivalent
Have demonstrated a commitment to public service
Plan to pursue a career in public service upon graduation
Be a United States (US) citizen, US permanent resident (holder of a Permanent Resident Card), or an individual granted deferred action status under the Deferred Action for Childhood Arrivals Program (DACA)
Preference may be given to applicants with no or limited prior engagement with other leadership programs in their undergraduate experience. Students must demonstrate financial need to be considered for the program.
Award requirements
No employee, consultant, officer, or director of the Obama Foundation, member of the scholarship selection committee, or family member of any employee, consultant, officer, director, or member of the selection committee is eligible to apply.
Application process
To apply, please click this link. You can find the eligibility criteria and required materials listed on that webpage as well.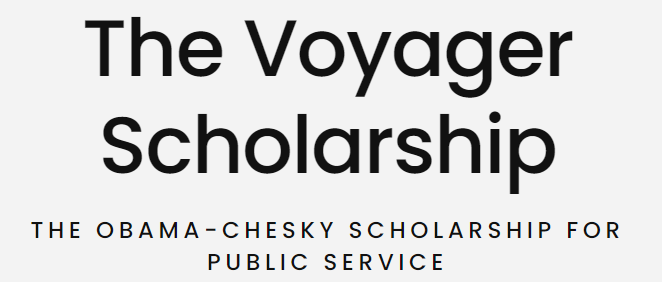 Purpose
General Academic Funding
International Study or Experience
Leadership Development
Summer Opportunities
Citizenship status
US Citizen
US Permanent Resident
DACA/Dreamer