Soros Fellowships for New Americans
---
Deadline
October
Overview
The Paul & Daisy Soros Fellowships for New Americans awards thirty fellowships each year to immigrants, and the children of immigrants, who are pursuing graduate education in the United States.
Paul and Daisy Soros, Hungarian immigrants and American philanthropists, established their Fellowship program for New Americans in December 1997 with a charitable trust of fifty million dollars. Their reasons for doing so were several. They wished to "give back" to the country that had afforded them and their children such great opportunities and felt a fellowship program was an appropriate vehicle. They also felt that assisting young New Americans at critical points in their educations was an unmet need. Finally, they wished to call attention of all Americans to the extensive and diverse contributions of New Americans to the quality of life in this country. In 2010, Mr. and Mrs. Soros contributed an additional $25 million to the charitable trust that funds their Fellowships for New Americans.
Benefits
Each award is worth up to $90,000 (up to $25,000/year stipend; up to $20,000/year tuition support)
Eligibility criteria
To be eligible for the Fellowship, you must meet the following three requirements as of the November 1 application deadline:
1. NEW AMERICAN STATUS​​
One of the following must be true as of the application deadline:
Born in the US: You are a US citizen by birth and both of your parents were born abroad as non-US citizens.
Naturalized Citizen: You have been naturalized as a US citizen either on your own or as a minor child under the application of one of your parents.
Green Card: You are in possession of a valid green card.
Adopted: You were born outside of the US or one of its territories and were subsequently adopted by American parents, and were awarded US citizenship as a result of your adoption.
DACA: You have been granted deferred action under the government's Deferred Action for Childhood Arrivals program.
Note: For all of the above, it must be true that both of your parents were born outside of the United States as non-US citizens, and were not eligible for US citizenship at the time of their births.
2. ACADEMIC STANDING
You will be, or expect to be, enrolled in a full-time graduate program at a US university for the 2022-23 academic year, and one of the following must be true as of the application deadline:
You are in your senior year of college and expect to receive your bachelor's degree as of fall 2022.
You have graduated from college, and are not currently enrolled in a graduate program in the US.
You are currently enrolled in a graduate program in the US that is different from the program in which you will be enrolled for the 2022-23 academic year.
You are currently in the graduate program you will be continuing, and you have not begun the third year of study for that program.
You are in a joint-degree program, and have not begun the third year of the degree program you want funding for in 2022-23.
Ineligible Graduate Programs: Online programs, executive MBAs, joint bachelors/master's programs, certificate programs, and post-baccalaureate programs
3. AGE
You cannot have reached or passed your 31st birthday as of the application deadline.
Award requirements
Each Fellow attends two weekend conferences of Fellows. The great majority continue to be involved with the program through regional dinners, service in the selection process for later classes, etc.
Selection criteria
Fellows are selected on the basis of merit – the specific criteria emphasize creativity, originality, initiative and sustained accomplishment -- in annual national competitions. The Fellowship program looks for applicants who have demonstrated and sustained accomplishments that show creativity, originality and initiative.  In addition, the Fellowship looks for evidence that an applicant's proposed graduate training is likely to enhance future creativity and accomplishment, that accomplishment is likely to persist and grow and that the individual has a commitment to responsible citizenship in this country.
Application process
 Applicants can access the application here: https://www.pdsoros.org/apply
The application includes the following sections:
A confirmation of your eligibility
Your personal and contact information
Your higher-education history
The graduate program[s] for which you seek support
Required submissions:

Resume
Two essays
Transcripts
Scores of standardized tests already taken
Recommendations (3 required, up to 5 accepted)
Essay One - maximum length 1000 words
Tell us about your experiences as a New American. Whether as an immigrant yourself, or as a child of immigrants, how have your experiences as a New American informed and shaped who you are and your accomplishments?
Essay Two – maximum length 1000 words
Tell us about your current and near-term career-related activities and goals, as well as why you decided to pursue the specific graduate program(s) and schools that you have. How do you see your current work and study informing your early career goals? If you have not been accepted into a program yet, please tell us about why you selected the programs to which you are applying.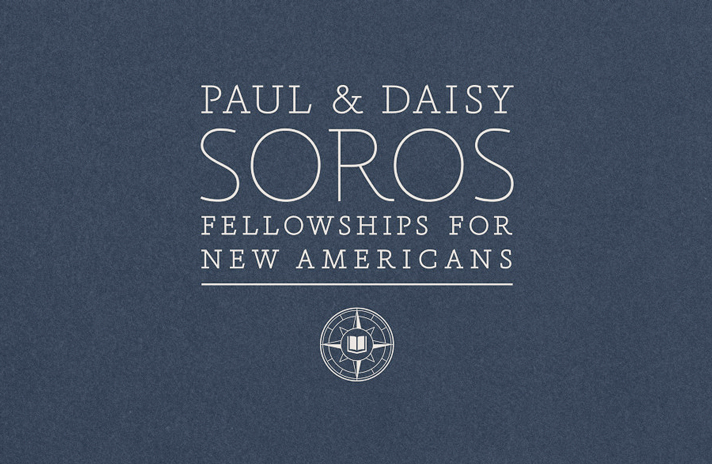 Purpose
Funding for Graduate Study
Focus
Business and Entrepreneurship
Creative and Performing Arts
Environment and Sustainability
Health and Medicine
Humanities
International Affairs
Journalism and Media
National Security
Peace and Conflict Resolution
Public Policy
Public Service
Social Justice
Social Science
STEM
Eligible applicants
Fourth-year+ Undergrads
Graduate Students
Undergraduate Alumni
Graduate Alumni
Communities
Historically Excluded/Underrepresented
Citizenship status
US Citizen
US Permanent Resident
DACA/Dreamer