Deadline
September
Overview
Designed to prepare young leaders to serve as a bridge between China and the rest of the world,  Schwarzman Scholars is the first scholarship created to respond to the geopolitical landscape of the 21st Century. Whether in politics, business or science, the success of future leaders around the world will depend upon an understanding of China's role in global trends.
With the inaugural class enrolled in 2016, the program gives the world's best and brightest students the opportunity to develop their leadership skills and professional networks through a one-year Master's Degree at Tsinghua University in Beijing – one of China's most prestigious universities.
Benefits
Students pursue a Masters in Global Affairs, taught in English, with concentrations in public policy, economics and business, or international studies. The concentration gives students an opportunity to focus on aspects of global affairs they may not have previously studied.
Students spend a year immersed in an international community of thinkers, innovators and senior leaders in business, politics and society. In an environment of intellectual engagement, professional development and cultural exchange, they learn from one another and pursue their academic disciplines while building their leadership capacities. This experience will expand students' understanding of the world and create a growing network of global leaders that will build strong ties between China and the rest of the world.
Eligibility criteria
Applicants must be at least 18 but not yet 29 years of age and have completed an undergraduate degree as of August 1 of their Schwarzman Scholars enrollment year.  Applicants may hold any citizenship, but they must be strong English speakers.
While there is no minimum GPA or class rank required to apply, applicants are expected to have demonstrated excellence in their academic studies, and the most competitive candidates will be among the top students in their graduating class. A reasonable estimate for ASU candidates would be 3.7+ cumulative GPA.  To review the application requirements, visit http://schwarzmanscholars.org/admissions/eligibility/.
Award requirements
Schwarzman Scholars remain in resident at Tsinghua University while they complete ther graduate degree program. Schwarzman Scholars also participate in mentoring and internships and must complete a capstone project.
Selection criteria
Schwarzman Scholars will be selected on the basis of not only their academic aptitude and intellectual ability, but also their leadership potential, entrepreneurial spirit, ability to anticipate paradigm changes, exemplary character, and desire to understand other cultures, perspectives and positions. Evidence of leadership ability is the most important selection criterion.
Application process
Applicants may apply directly to the Schwarzman Scholars program. The program application includes the following:
Online application
Resume (2 page maximum)
Transcripts/Academic Records
Essays (2)
Letters of Recommendation (3)
Video (optional)
The application, FAQs, and detailed instructions are available at https://www.schwarzmanscholars.org/admissions/application/.
Prospective applicants would also benefit from participating in the ONSA Applicant Development Program. Application is required for the ADP - see the link above in the top menu.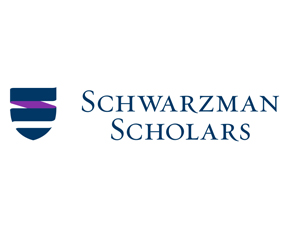 Purpose
Funding for Graduate Study
International Study or Experience
Leadership Development
Professional Development
Focus
Business and Entrepreneurship
International Affairs
Public Policy
Eligible applicants
Fourth-year+ Undergrads
Graduate Students
Undergraduate Alumni
Graduate Alumni
Citizenship status
US Citizen
US Permanent Resident
International Student (non-US citizen)