Knowles Science Teaching Fellowship
---
Deadline
November
Overview
The Knowles Science Teaching Foundation (KSTF) Teaching Fellows Program, the Foundation's signature program, awards exceptional young men and women with five-year, early-career Fellowships, empowering them to become primary agents of educational improvement. These "backbone" teachers reach thousands of students each year, take on leadership roles improving math and science education from the classroom and strengthen the teaching profession.
The KSTF Teaching Fellowship is a five-year program divided into three phases, with each phase building on the next. During the program, Fellows will receive professional development from experienced educators and financial support for professional development, classroom materials and more.
Benefits
Current Fellow benefits include:
$1,200 per year in classroom material grants
$4,000 per year in professional development grants and more than 50 hours of professional development
$2,000 per year tuition reimbursement
$3,600 per year summer stipend
Eligibility criteria
To be eligible for consideration, individuals must:
Have the capacity and determination to commit to teaching as their primary career;
Have earned a degree in a major related to the mathematics or science discipline they intend to teach. This degree should have been earned no more than 10 years ago;
Have earned or will earn a valid state teaching credential/certificate/license that enables them to teach mathematics or science in grades 9-12 in the United States;
Be entering their first or second year as a teacher of record.
Selection criteria
Approximately 35 individuals are selected each year to receive KSTF Fellowships. KSTF is looking for dedicated, passionate individuals who are committed to teaching, who demonstrate the potential to develop exemplary teaching practices, and who have the potential to lead and drive change in education.
Application process
To complete your application, you will need to provide a resume, transcripts, three letters of recommendation and three essays that describe how you meet KSTF's selection criteria. Find complete application requirements and details here.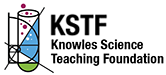 Purpose
Funding for Graduate Study
Leadership Development
Professional Development
Teaching Experience
Eligible applicants
Fourth-year+ Undergrads
Graduate Students
Undergraduate Alumni
Graduate Alumni
Citizenship status
US Citizen
US Permanent Resident
DACA/Dreamer
International Student (non-US citizen)