Deadline
November
Overview
The National GEM Consortium offers a fellowship program designed to offer opportunities for underrepresented minority students to obtain MS degrees in engineering and Ph.D. degrees in engineering and the natural and physical sciences through a program of paid summer internships and graduate financial assistance. ASU does not administer the GEM Fellowship Program; interested students must apply separately to ASU.
Benefits
GEM MS Engineering Fellows receive:
$4,000 living stipend per full-time semester up to 4 semesters ($8K per academic year – 3 quarters)
up to two paid summer internships with a GEM Employer Member
full tuition and fees provided by a GEM University Member
Ph.D. Engineering/Science Fellows receive:
$16,000 stipend in the first academic year of the GEM Fellowship
GEM Member University provides a living stipend up to the 5th year of PhD program, equivalent to other funded doctorate students in the department
a minimum of one paid summer internship with a GEM Employer Member
full tuition and fees at a GEM University Member
Eligibility criteria
Applicants must be a U.S. citizen or U.S. permanent resident at time of application.
Applicants are strongly encouraged to take the GRE to qualify for multiple GEM Member University programs. Applicants will be asked to provide test dates and/or GRE scores when available.
Applicants must directly apply to a minimum of three (3) GEM Member Universities STEM graduate departments. The deadline to apply to three GEM Member Universities is January 15th OR the relevant STEM graduate department deadline, whichever is earlier. Applicants must be admitted into a GEM Member University graduate program before the GEM Fellowship is awarded.
Application process
Refer to the GEM Consortium website for the most up-to-date application requirements and deadlines.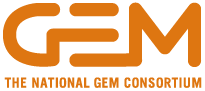 Purpose
Funding for Graduate Study
Professional Development
Summer Opportunities
Eligible applicants
Fourth-year+ Undergrads
Graduate Students
Undergraduate Alumni
Communities
Historically Excluded/Underrepresented
Citizenship status
US Citizen
US Permanent Resident