Gates Cambridge Scholarship
---
Deadline
October
Overview
Gates Cambridge Scholarships are offered to students who would like to pursue a full-time postgraduate degree at the University of Cambridge. Established in 2000 by a donation of $210 million from the Bill and Melinda Gates Foundation to the University of Cambridge, the Gates Cambridge Scholarships are among the most prestigious international scholarships in the world. The Trust annually awards 95 full-cost fellowships for graduate study in any field at Cambridge University.  Of the total number of awards, 40 are given to citizens of the United States, and 55 are awarded to "international" students (defined as students who are neither US nor UK citizens).
Benefits
The award provides support for the full cost of attendance, travel to and from Cambridge, a monthly stipend, and additional discretionary funds, as appropriate.
Eligibility criteria
Gates Cambridge Scholars are chosen on the following four criteria:
Good fit with Cambridge
Academic excellence (e.g. cum GPA 3.8+)
Leadership potential
A commitment to improving the lives of others
Selection criteria
Gates Cambridge Scholars are selected on the basis of their...
Academic excellence 
Compelling reasoning for the suitability of a Cambridge degree
Commitment to improving the lives of others
Capacity for leadership
For detailed information, refer to the Gates Cambridge Scholarship site.
Application process
The deadline for US students to apply is typically in mid-October (non-US citizens apply in December).  Applicants apply for both a Gates Cambridge Scholarship and admission to their chosen postgraduate course at the University of Cambridge. It is not possible to apply for a Gates Cambridge Scholarship without applying to the University of Cambridge in the first instance. 
Students do not need to be nominated by ASU to apply for this award, but ONSA does provide advising on the application process and interview preparation for finalists. In particular, prospective Gates Cambridge Scholars would benefit from participating in the ONSA Applicant Development Program (application available in the top menu, above).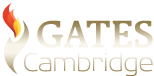 Purpose
Funding for Graduate Study
International Study or Experience
Focus
Business and Entrepreneurship
Creative and Performing Arts
Environment and Sustainability
Health and Medicine
Humanities
International Affairs
Journalism and Media
National Security
Peace and Conflict Resolution
Public Policy
Public Service
Social Justice
Social Science
STEM
Eligible applicants
Fourth-year+ Undergrads
Graduate Students
Undergraduate Alumni
Graduate Alumni
Citizenship status
US Citizen
US Permanent Resident
International Student (non-US citizen)