Ertegun Graduate Scholarship Programme in the Humanities
---
Deadline
January
Overview
As Ertegun Scholars, the world's top graduate students in the humanities are brought together with one another and with Oxford's exceptional community of scholars in a unique setting that fosters dialogue across academic disciplines, across cultures and across generations. Building on this foundation at Oxford, Ertegun Scholars leave the University prepared to be leaders - not only leaders in their chosen fields, but also leaders of global thought and opinion and leaders of positive action for the betterment of humanity.
After being selected in a highly competitive review process conducted by a multi-disciplinary Ertegun Scholarships Selection Committee, Ertegun Scholars have the opportunity to attend cost-free one of the world's oldest and greatest universities. At Oxford, Ertegun Scholars pursue graduate-level study and research in fields as diverse as literature, history, music, archaeology, art history, ancient history, Asian studies, Middle Eastern studies, medieval and modern languages.
Benefits
100% of university and college fees, and a grant for living costs. Ertegun scholars also enjoy dedicated use of Ertegun House, which provides space for each Scholar for writing and research, as well as opportunities to participate in social occasions, lively lectures, performances and other activities developed expressly for the Scholars.
Awards are made for the full duration of a student's fee liability for the agreed course. If your scholarship is offered for a course lasting more than one year, the continuation of your scholarship each year is subject to an annual renewal process based on satisfactory academic progress.
Eligibility criteria
Candidates should be already be applying to start a new graduate course at Oxford. Applications to The Mica and Ahmet Ertegun Graduate Scholarship Programme may be made by those in fields covered by the following Faculties: Classics (including classical archaeology); English Language and Literature; Fine Art (DPhil in Contemporary Art History and Theory only), History (including History of Art and the History of Architecture); Linguistics, Philology and Phonetics; Medieval and Modern Languages (covering most European languages and their literature); Music; Oriental Studies (including Far Eastern and Middle Eastern Studies, and the study of a wide range of languages); Philosophy; Theology; and the Film Aesthetics and Women's Studies interdisciplinary courses.
Selection criteria
Ertegun Scholars will be selected in a highly competitive process by an Ertegun Scholarships Selection Committee made up of the Head of Oxford's Humanities Division and one representative from each of the eligible faculties, acting in consultation with the Board of Ertegun Overseers.
Application process
You apply for the scholarship at the same time as you apply to Oxford by selecting 'Mica and Ahmet Ertegun Graduate Scholarships in the Humanities' in the Funding Section of the University's Graduate Application Form. Please check the main university website for the exact dates of deadlines.
You must also complete a supporting statement (Word doc) and upload it as a pdf document together with your Graduate Application Form by the application deadline in order for your application to be complete. The statement requires you to answer three questions (in no more than 500 words each) that relate to the aims and mission of the Ertegun Scholarship programme. The Selection Committee will consider your supporting statement in conjunction with your course application.
For more information on submitting the application, please see the Graduate Admissions and Funding website.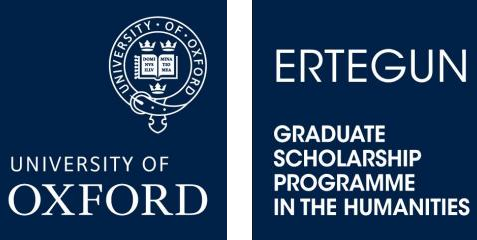 Purpose
Funding for Graduate Study
International Study or Experience
Focus
Creative and Performing Arts
Humanities
Eligible applicants
Fourth-year+ Undergrads
Graduate Students
Undergraduate Alumni
Citizenship status
US Citizen
US Permanent Resident
International Student (non-US citizen)