DAAD-Research Internships in Science and Engineering (RISE)
---
Deadline
November 30
Overview
The German Academic Exchange Service (DAAD) Research Internships in Science and Engineering (RISE) program offers undergraduate students from the United States, Canada and the United Kingdom the opportunity to complete a summer research internship at top German universities and research institutions. 
In their internships, students are carefully matched with doctoral students who serve as their mentors. Interns receive a monthly stipend to cover every day costs. About 300 scholarships are available each year.
Benefits
Students are matched with a host university or institute according to their area of interest (biology, chemistry, physics, earth sciences, engineering, or a closely related STEM field)
DAAD provides students a monthly stipend for three months to help cover living expenses
DAAD provides health insurance, accident and personal liability insurance. All interns are invited to the three-day RISE Germany meeting in Heidelberg at the beginning of July and will receive an allowance of 160 Euros for travel to the meeting.
Host universities and institutes provide housing assistance and match students with Ph.D. student mentors
German language is not required and the working language will be in English
 
Eligibility criteria
Must be currently enrolled at a four-year university in the United States as a full-time student in the field of biology, chemistry, physics, earth sciences or engineering (or a closely related field). U.S. citizenship is not required as long as you are enrolled full-time at a U.S. institution. 
Must be an undergraduate who will have completed at least 2 years of a degree program by the time of the internship placement
Must prove that you will maintain undergraduate status after the internship has taken place
German language skills are not required for most positions but would be helpful to manage everyday life outside of the laboratory. The working language will generally be English.
Application process
The application is submitted completely online through the RISE database. If you are interested in participating, the first step for you is to register and to login to access the internship database. Then fill in the online application form and upload all necessary documents.  Please check the list of application documents you must submit at the Application portal. 
Students interested in applying should still work with ONSA's DAAD-RISE advisor, Catherine Salgado, despite the direct application process. For any questions, contact her directly at Catherine.Salgado@asu.edu.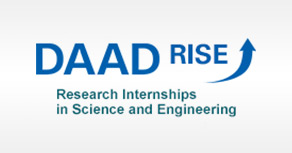 Purpose
International Study or Experience
Research Support
Summer Opportunities
Eligible applicants
Second-year Undergrads
Third-year Undergrads
Citizenship status
US Citizen
US Permanent Resident
International Student (non-US citizen)