Charles B. Rangel International Affairs Fellowship
---
Deadline
September
Overview
The Rangel Graduate Fellowship is a program that aims to attract and prepare outstanding young people for careers in the Foreign Service in which they can help formulate, represent and implement U.S. foreign policy.  The Rangel Program will select 30 outstanding Rangel Fellows annually in a highly competitive nationwide process and helps support them through two years of graduate study, internships and professional development activities, and entry into the Foreign Service.  This program encourages the application of members of minority groups historically underrepresented in the Foreign Service and those with financial need.  Fellows who successfully complete the program and Foreign Service entry requirements will receive appointments as Foreign Service Officers, one of the most exciting and rewarding careers available.
Rangel Fellows are committed to serving their country and promoting positive change globally.  Individuals who have successfully completed the Rangel Program are now making a difference in countries throughout the world, including Colombia, Mexico, Panama, Venezuela, South Africa, Nigeria, Angola, China, Korea, Bangladesh, Spain and Ireland.
Benefits
The Fellowship provides benefits of up to $95,000 over two years toward a two-year master's degree, arranges internships on Capitol Hill and at U.S. embassies, and provides mentoring and professional development support for individuals wishing to become Foreign Service Officers in the U.S. Department of State.
Eligibility criteria
Applicants must be U.S. citizens.
Applicants must be seeking admission to enter graduate school in the fall for a two-year program at a U.S. university. They can be in their senior year of their undergraduate studies, graduating by June, or they can be college graduates. 
Applicants must have a cumulative grade point average of 3.2 or higher on a 4.0 scale at the time of application.
Those selected must receive medical, security and suitability clearances to remain in the program.
Application process
Background Information (e.g., name, contact information, international travel).
A personal statement (in 600 words or less) that discusses the applicants' reasons for applying, interest in foreign affairs, commitment to pursue a Foreign Service career and any relevant experience or information.
A statement (in 400 words or less) from the applicant that discusses his/her need for financial assistance to attend graduate school, including an explanation of:

The financial assistance received during undergraduate studies
Overall education-related debt
Ability/plans to pay for graduate school independently

Two letters of recommendation:
Proof of U.S. citizenship
Student Aid Report (SAR) generated from the Free Application for Federal Student Aid (FAFSA) form.
GRE or GMAT Scores (copy of report sent to student)
Official Financial Aid Statement from your senior year, if you received financial aid.
Official transcripts from all colleges and universities the applicant has attended for credit.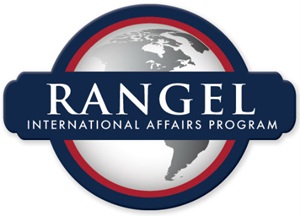 Purpose
Funding for Graduate Study
Government Service
Leadership Development
Professional Development
Focus
International Affairs
National Security
Peace and Conflict Resolution
Public Policy
Public Service
Eligible applicants
Fourth-year+ Undergrads
Graduate Students
Undergraduate Alumni
Graduate Alumni
Communities
High Financial Need
Historically Excluded/Underrepresented
Veterans
Women